I'm having a whirl at my first link-up today! In blog speak, a link-up is basically where you post about the topic offered and you "link" your blog entry back to their page.
So this link-up is hosted by KTJ Weighing In and Life by Lex for Non-Scale Victories (NSV). In weight loss speak, A NSV is something you celebrate about your healthy lifestyle when your scale is being a beotch, like mine!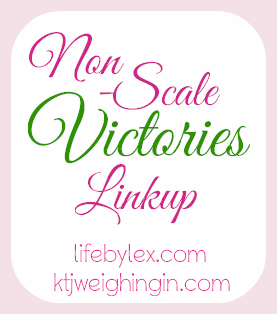 Since I made the mistake of downloading . . . and then actually using . . . the Ideal Weight App on my iPad, that number has been simmering in the back of mind. Here lately, it feels like it's starting to boil.
No, I'm not gaining, but for all the boot camping and running I'm doing . . . versus holding down the couch . . . you'd think I would have lost more than a couple of pounds.
So time to focus on the positive . . . instead of the number on the scale, which is waaayyy more positive than I want it.
My daughter wrote this about me at school, and I found it in her folder. OMG. This was big for me. Huge.
At first I was giggling at the "tan skin" part because I could not be more pale and freckly . . . but the 'healthy' (or 'heathly,' your choice) bit made me proud. Yes, proud.
They notice. What you say, but especially what you do . . . little eyes are watching. I try very hard to make sure my fitness journey focuses on being healthy and not being skinny. Do I wish I were skinny? Well, duh. Yes, but that's not what fuels my fire.
Honestly, my journey is more about being a role model for the behaviors I expect from my children, especially my daughter.
I can't expect them to stay active and make healthy food choices if they are watching me do the opposite. Whoa, that's deep.
On a lighter (ha, pun intended) NSV note, I purchased a pair of pants a size smaller than usual . . . and by usual, I mean like ever. So without question, Old Navy is now my new favorite store. I may, or may not, have screamed out loud in the dressing room! And they were coral! What, wha? You have to own your shape if you are putting your butt in anything other than brown, black and denim! And I did. Boom.
My final NSV for today . . . Getzy and the kids were craving some fast food this past rainy Sunday. Guess what I ordered? Nada, zip, zilch, nothing. I ate some healthy leftovers. Oh yea, doing the victory dance!
Well, that was fun. I was kinda down in the dumps about the slow progress on the scale, but focusing on the good stuff has cheered me right the hell up! Winning!