Quick late night post . . . the fabulous Melanie over at
4 Kottez Runs It
and Kyra from Nine Months are hosting a Race Day Photo link-up!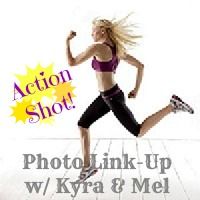 I could not resist joining this one since my favorite race day picture inspired the name of my blog! The photo comes from a Warrior Dash that I did a couple of years ago with some awesome friends. Check it out!
Come on . . . that's pretty bad ass, dontcha agree? I freaking jumped over fire. Real fire.
Does that picture show my 'fluffy' bits and crazy hair? Yep. Is it my best picture ever? No. But it makes me so proud! It makes me feel accomplished!
I want to embrace life . . . live it to the fullest. I want to feel on fire with passion and joy . . . be a happy and healthy wife, mom and friend. Get outside my comfort zone. Try new things. Go new places.
That picture symbolizes those things . . . thinking about doing that race was scary. Doing it was thrilling. That's what I'm going for in life . . .