Doing a new link-up today hosted by Shannon at Life After I "Dew" . . . I see this one a lot in the blog world and thought it would be fun to jump on board . . .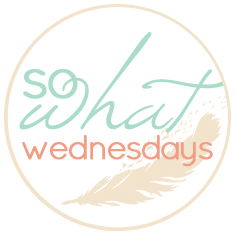 So what if I sucked at blogging this summer . . . kids, vacations, laziness . . . it happens.
So what if I set my alarm for 5:10 a.m. for boot camp, slept in my workout clothes so I'd be all ready to go when I got up, and then forgot to actually turn the alarm on . . . guess I needed that extra sleep.
So what if I purchased 9 new pairs of shoes in the last week . . . I was really only looking for a pair of brown wedges and the others accidentally happened.
No worries Getzy, they didn't cost that much! Love you!
So what if I purchased a pair of shoes purely based on this guy . . .
I have a whole Petey inspired outfit planned . . . you don't plan outfits around your dog? Weirdo.
So what if I need a pedicure so bad that I just keep re-applying polish over the scuffs . . . including the ones caused when the dog sat on my wet toenails.
So what if I had to throw away a bunch of fresh vegetables that had rotted in the "crisper" which leads to . . .
So what if I haven't cooked proper meals lately . . . no one is starving.
So what if I sucked at every exercise challenge I've tried . . . I just get so bored.
So what if I'd like to tell all my volunteer commitments to suck it right now.
So what if I think this very inappropriate picture is hilarious . . . courtesy of Valerie at Fabulous Chick Gets Fit.
And finally, so what if this challenge came way too easy . . . sometimes you just need to let it out!
Anybody else need to just say, "So what?!?"