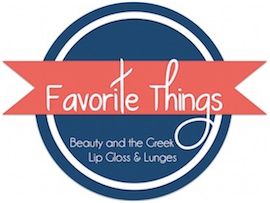 I've thought about accumulating a list of things I'm loving right now . . . sometimes it's fun to see what others are into to get fresh new ideas for yourself.
So, here are some products that I'm digging . . .
ONE: Old Navy Sweetheart jeans . . . boot cut and skinny! That's right, I said skinny jeans. I've have never worn a pair of skinny jeans in my life. In fact, I'd venture to say that my jeans would be more in the "mom jean" category, with a saggy butt . . . oh the shame.
More embarrassing truths . . . I have a serious muffin top from three babies and an apple-ish shape. I'm always looking for stuff to cover the "cupcake" . . . I cannot wear low rise anything . . . and the Sweetheart jeans tackle the job!
My ladies convinced me I needed to size down my jeans, and I'm here to convince you too! I would never in a million years have bought a size 6 jean . . . NEVER. They took me shopping and made me do it . . . an intervention of sorts. And bam. Jean heaven. So the lesson here is size down your jeans and cover the cupcake!
And it appears to have been a good move . . . Getzy left me this note on our "I love you because . . ." board in our closet. Ladies, the dudes notice, so rock those jeans!
TWO: The Instant Button = amazing!
My friend Ami introduced me to this little life saver . . . it basically helps you size down your jeans (pants, shorts, capris, whatever) if you've lost a little weight, or they've stretched out towards the end of the day. It helps reduce the saggy butt effect if you haven't bought new jeans in a size smaller than you think!
Three: The North Face puffy vest!
I pink puffy heart a warm vest for our mild Georgia winters . . . and I'm seriously drawn to these puffy ones. I love that it isn't black . . . it goes with just about everything! Pair it with my skinny jeans and bam!
Four: Superhero socks . . . the only thing my 12 year old asked for on his birthday. I find these so funny. I get him.
I must say, I think my kid is way better than Batman!
He also got them in 'Superman!' Go get you some here!
Five: My new coffee flavor . . . Toasted Hazelnut by Archer Farms and my favorite creamer.
A sample pack of this coffee came in my Fall Swap box from Michelle, and I loved it!! I use it with my favorite creamer, and it's happy in a cup!
Six: My new stove . . . although you have to see my old one to appreciate the new one! Out with the old . . .
And in with the new . . .
I didn't plan on getting a new one right now, but since my old one crapped out on me, it was time. My friends call my Mom the appliance fairy because when she was here in the spring, I ended up with a new hot water heater and dishwasher. I told the kids before they left for school that the new stove was arriving, and Amanda joked that she wanted a purple one. Well, she mostly got her wish . . . too funny! The best part about it is it plays a tune when it's preheated and when the timer is done. Love that.
Seven: I'm not really a girly girl who's into a lot of make up products. Every once in awhile I like to venture into Sephora to get a little make over and check out some new products. My mom and I went on Friday, and we got some serious love from my new favorite girl Angie!
Let's just chalk up my weird coloring and janky teeth to bad lighting . . . I'm pretty sure I don't look this cracky in real life.
Right? Someone tell me I'm right.
She did a great job making my mom and I feel pretty . . . and we got a few new products. I loved her bold eyes but warned her not to try anything like that on me! Here are my current favorite products . . .
1. Buxom Lip Gloss set . . . these are awesome. I remember the first time I tried it on vacation with my friend Cindy . . . she knows I love some lip products, and I wanted to use her lip gloss. She looks at me and says, "I'm not sure you're ready for this?" Like a dare or something. So I give it a whirl . . . whoa! It's lip plumping so it tingles . . . I'm pretty sure I had a duck face the rest of the evening. I loved it though and have lots of it now!
2. Blinc mascara . . . I don't really know exactly how to explain it, but it's a tubular mascara so it's so easy to get off. You just use a little warm water and like magic it comes off in your fingers . . . it's like your lashes are wearing little sweaters. I have sensitive eyes so I hate to wear mascara because it starts to itch, and I don't like having to scrub so hard to wash off the raccoon eyes . . . but not with this stuff! Comes off like a dream!
3. & 4. Laura Mercier concealer . . . and the Sephora concealer brush. Us moms tend to have dark circles under our eyes . . . I hate to rub concealer on because I feel like it's damaging the skin around my eyes. If I dab a little of this stuff with the brush, it goes on so easy and gentle. The bonus is I no longer look like someone punched me and gave me a black eye. Hot Mess Express right here!!
Eight: My chicken lamp . . . yes, I have a thing for chickens. I can assure you my house is not over 'chickened,' just a few!
There's a night light inside the chicken . . . oh the joy!
My mama bought this for me at the Country Living Fair when she was here . . . we wheeled and dealed with some adorable gentleman and made a sale! The Fair was part of the reason I flew mom down to visit . . . she loves the magazine and really wanted to go! Check that off her list!
Doesn't she look freaking amazing for 70?
Nine: My new Petey ornament from my BFF's mom Karol and her friend Kathy! Shout out ladies!! They know I love my Petey dog and got this for me. Made my heart smile. Thank you!
And Petey is doing just fine since his surgery! The vet said it was skin cancer and no further treatments are necessary. Happy dance!
Ten: Grooveshark.com . . . music makes life so much better, and I love that I know how to add some tunes to the blog! I do feel like life is best expressed via song! Here's my current favorite tune . . .
Who wants to dance with me tonight? Getzy better raise his freaking hand!