Let's give it up for lists of things to accomplishment . . . they make me feel so organized and centered! I'm setting some fall goals to hold myself accountable and to focus my efforts on things that are important to me.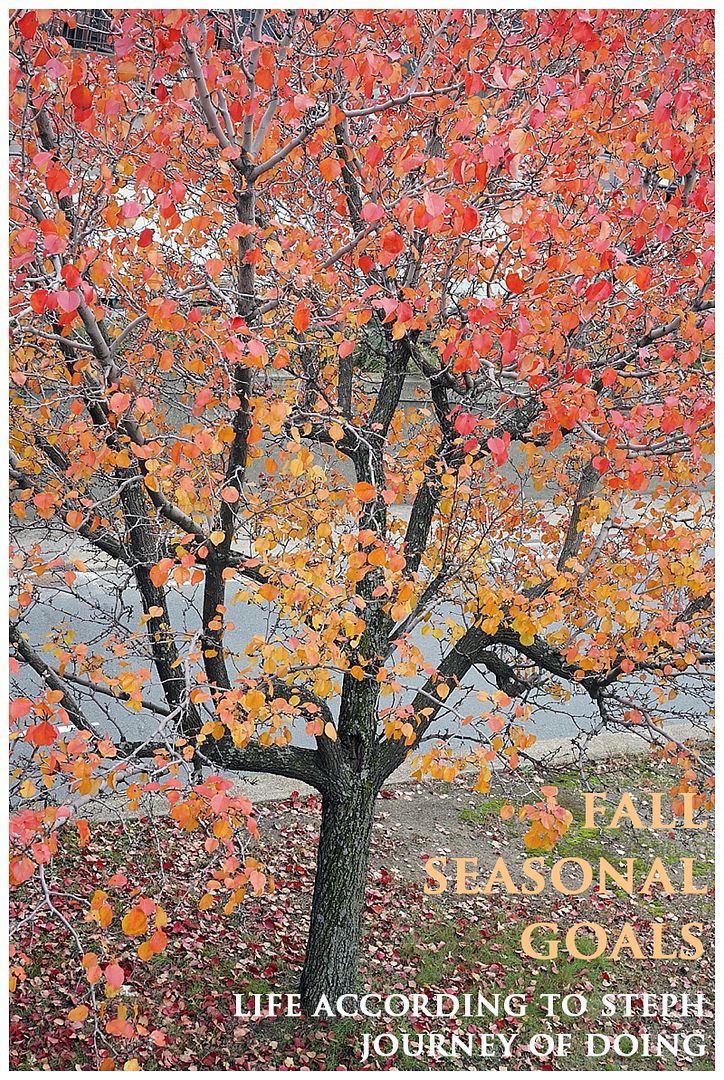 1. Have a fire pit night or two! What the heck do I mean by this? Well, we have a fire pit, fire wood and a back yard . . . why do we not sit out there and chillax with friends, s'mores and a beverage? Beats me . . . it's on for fall!
2. Visit a pumpkin patch and/or apple orchard! My kids are pretty much too old for this "stuff," but I love it! Plus, this is where memories are made so we are going somewhere in the next few weeks!
3. Accomplish at least one house update! Alas, we are not moving. It seems like a great idea to start over in a new house but really, it's just more work so we are going to begin tackling our home update list. Honestly I think the hardest part is just making phone calls to get quotes . . . time to get on it.
4. Figure out my decorating style! This seems odd, but I feel like I need a style direction for our main floor as we start to make updates. I don't have the gift of interior design . . . anyone want to offer their opinions? I'm perusing websites like Pinterest and Houzz . . . it's all so overwhelming.
5. Organize the storage room! Eeewww. This has to be done because I need to get to my fall decorations. I know this task is worse in my head than actually doing it.
6. Reduce the 2nd digit by one in my 3 digit weight! This is self explanatory (or did I make that confusing?) . . . and not easy as we enter the season of eating, but I'm going to try!
7. Make the Pioneer Woman cinnamon rolls to give away to friends! I love to bake, and I love the smell of cinnamon! These are so easy and delicious and the recipe makes a ton of them, thus the need to give them away. I did this a few years ago and still chuckle at my Columbian friend Natalia's text to me about them . . . something along the lines of "there is excitement in the house . . . we've never had these before . . . how do we eat them?" So funny! Who needs some? I even deliver!
8. Start my oldest son's Scout scrapbook! He will (fingers crossed) hopefully make Eagle Scout soon, and I want to have a scrapbook on display at his Eagle Court of Honor. I suspect this will take way more time and effort than I want so it's best to get started now. Anyone have pictures to send me of him from scouting trips and activities?!? Help a sister out!
9. Finish Christmas shopping by November 30th! I don't want to be running around last minute and buy things just to check the box. I've already started because I like to spread the expense over several months as well.
10. Get updated family pictures! Last time we had them done was June 2014. I need new ones that are better than school photos.
11. Find our wedding video and get it converted from VHS! Yes, I am that old. Getzy just randomly asked me where is was and suggested we get it converted so now I get to find it! I'm sure it's somewhere safe and sound.
12. Test out as a handler with my Zeus! My sweet little baby is leaving on Sunday for K-9 academy. He will learn his stuff, and we have to learn his stuff. And then we have to pass two tests as his handler before he can advance. More to come on this in a later post.
Whoa, that felt good. I didn't really have much in mind, but then the juices started flowing and I decided a dozen was enough. I'll check back on how I did when it's time to post winter goals. What are your fall goals? Do share . . . because I'm nosey and like to know things!